taylor swift's giant inflatable snake is named karyn (part 1)
𝔯𝔢𝔭𝔲𝔱𝔞𝔱𝔦𝔬𝔫 revisited, personal justice & writing from the center
I've been waffling about with this for probably most of 2020, but then Taylor abruptly ended the Lover era, so here ya go. It's part one of two (for now).
---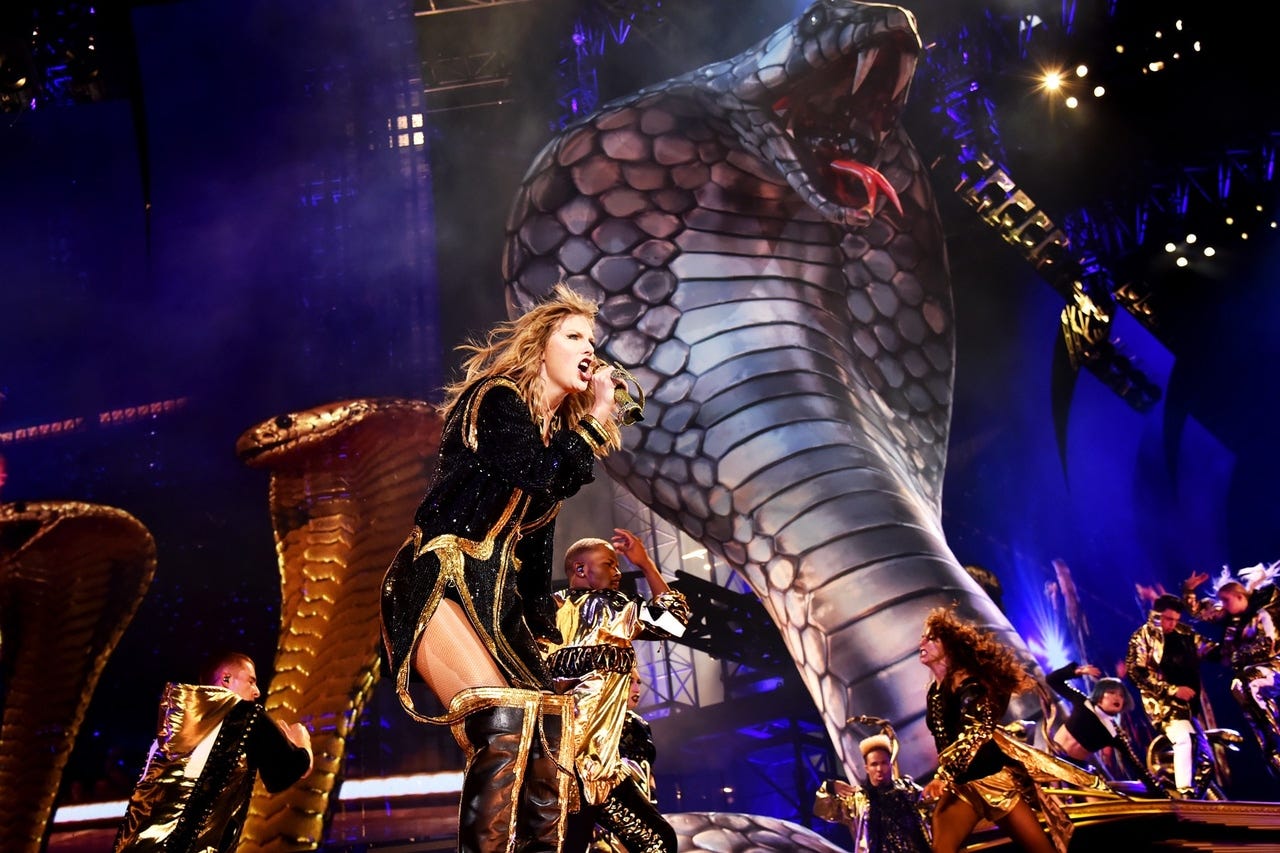 If Taylor Swift fantasizes all the things she'd get away with if she were "The Man," I fantasize all the things I'd say, all the names I'd name, all the institutions I'd burn to the ground, all the feelings I'd pour out in public if I had an ounce of Taylor Swift's confidence that my perspective and victimhood matter.
And maybe "The Man" is in part Taylor recognizing that people dismiss everything about her, including her pain. It's an easy knee-jerk reaction and why reputation is a polarizing album. Swiftie as I am, I love Kanye and think the whole "Famous" saga amounts to kayfabe and Taylor apparently never seeing women reappropriate "bitch." But reputation was my favorite Taylor Swift album until folklore, and it's all I listened to for most of June.
June was a convergence of a lot of things: protests for Breonna Taylor and George Floyd, liberal publications and arts organizations virtue signaling to the moon and back, and my second unemployment from these two industries in the year 2020. I downloaded The Sporkful's "A Reckoning at Bon Appetit" episode, cut out audio of Dan Pershman's interview with Sohla El-Waylly, and tracked it like a motivational tape. I have a playlist that intersperses these clips with reputation and Fetch the Bolt Cutters, taking me from "I would beg to disagree but begging disagrees with me," to Sohla describing the Zoom meeting where she told Adam Rapaport he should resign to his face, to "Look What You Made Me Do."
I'm trying to write a play about liberalism, and how living my whole life in Kentucky and Indiana the worst racism and misogyny I've experienced has been from white liberals in arts nonprofits (and if you're one of those white liberals I've met in a nonprofit I have no interest in letting you rest easy thinking you're one of the good ones, so fuck off). There's a deep irony to this sonic diet of mine: I have an axe to grind with some specific white people and the systems that benefit them, so I channel Taylor Swift villainizing Kanye West. I channel my rage at all the racism me and my peers have dealt with via a song whose music video contains dogwhistle fascist imagery she threatened to sue a leftist blogger for pointing out.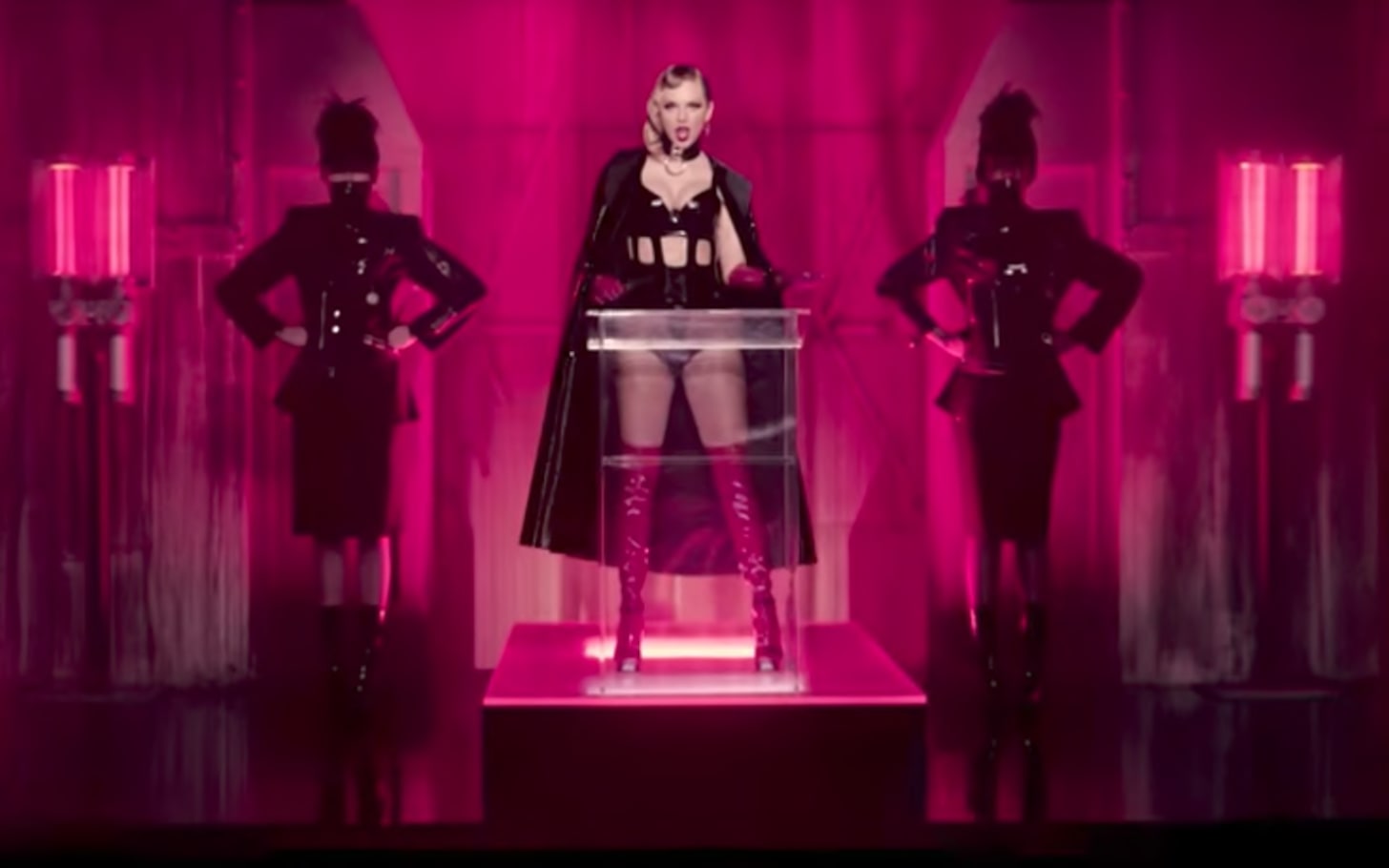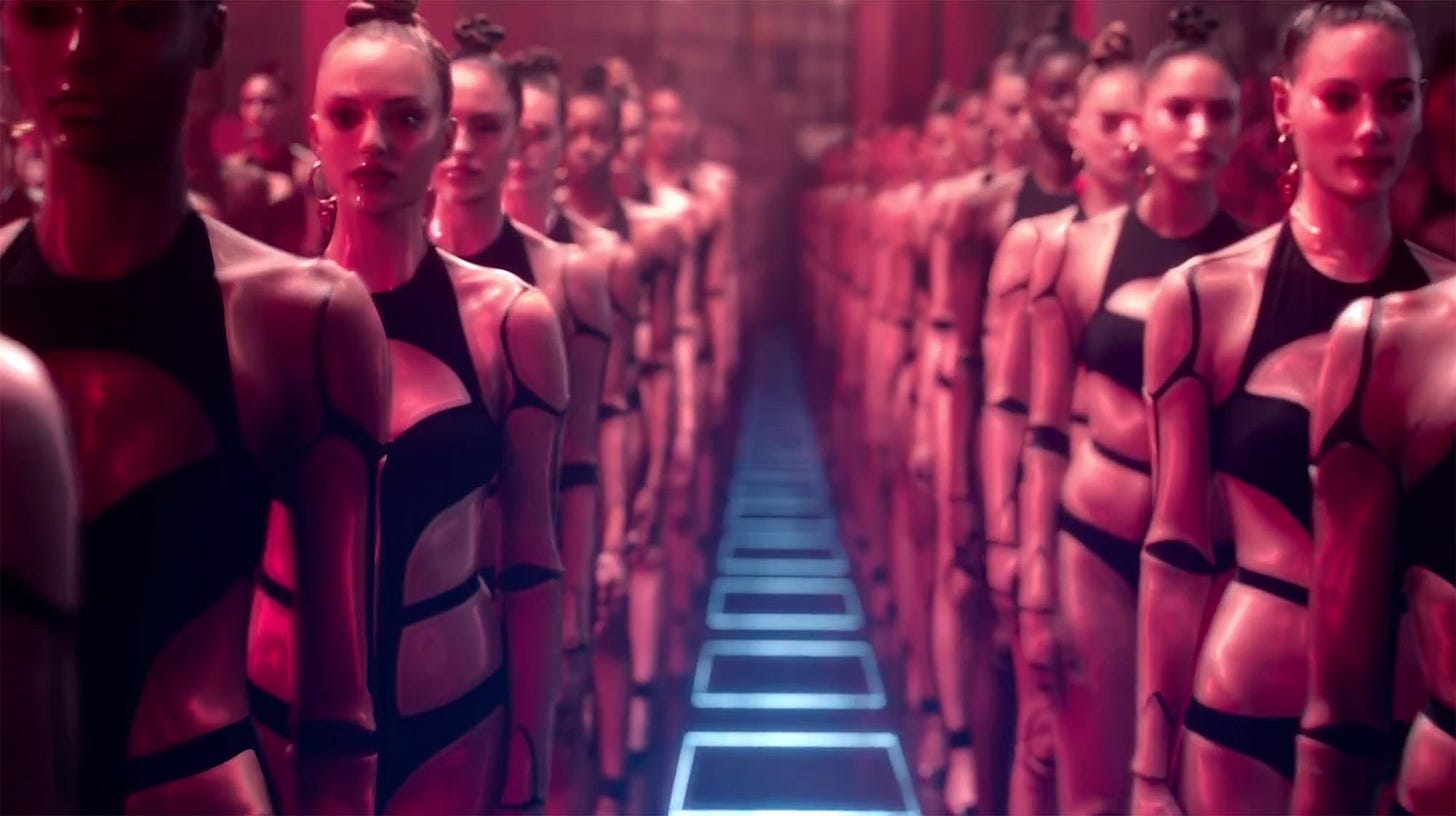 I often go back to this NPR Music essay from 2018. "It's impossible to imagine that Swift didn't learn how to be a pop star by watching and listening to rappers," Leah Donnella writes. "She has capitalized on that universal appeal of rap: centering the underdog, the underappreciated, the hated, the disenfranchised. She has taken this narrative and spun it on herself and those in her ilk: the young, white, wealthy and beautiful."
I've made a messy connection between her songwriting and this advice from Viet Thanh Nguyen:
I suppose I'm doing something like running a Google Translation back through Google Translate: from the margins, I emulate Taylor Swift emulating how people write from the margins. Or I've tried. The specific way this white woman marinates in how people have wronged her is a level of self-pity I haven't indulged until now. In that same NPR essay, Donnella quotes Taylor circa 1989:
I think the best thing I can do for [my fans] is continue to write songs that make them think about themselves and analyze how they feel about something and then simplify how they feel. Because, at that age […] what can be so overwhelming is that you're feeling so many things at the same time that it's hard to actually understand what those emotions are.
"A huge part of Swift's draw is the acknowledgment […] that our strongest emotions don't always correspond to the world's biggest injustices, and that we're entitled to them anyway," Donnella writes. "Her music doesn't make fans feel guilty about feeling what they're feeling. It provides space for them to be as angry or heartbroken or in love as they want to be."
So I make "Look What You Made Me Do" about the injustices I face—as what? A queer Asian-American, sure, but to differentiate feeling guilty for feeling from having class perspective: one with a college degree, coping with the micro and material aggressions of having a job with a cubicle.
Taylor Swift's willingness to center her suffering, however relative, is exactly what Viet Thanh Nguyen means by writing "as if you are the majority." You could say Taylor takes this lesson, too, and writes with the confidence of a man like Bruce Springsteen, but she's long since entered a class of her own. (Tangent: my favorite part of Pitchfork's Fine Line review is how it rates Harry Styles' songwriting shortcomings and triumphs relative to a "Swiftian" quality.")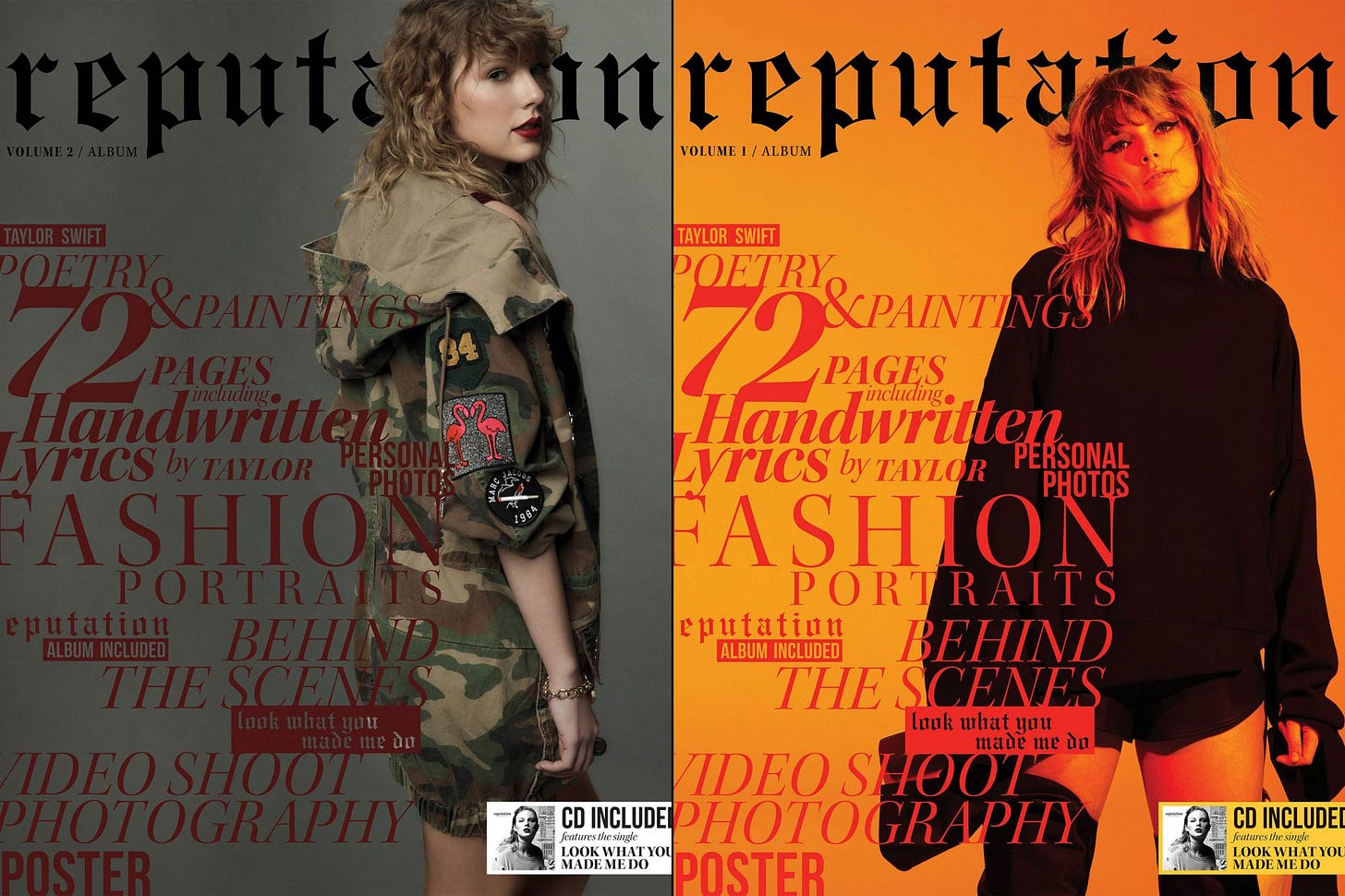 I haven't owned a Taylor Swift CD since Speak Now, so it's purely through Genius that I know reputation was the first album to break her tradition of hidden messages in the lyric booklet. Instead, it came with one of two collectible (Target-exclusive) reputation faux-tabloids that's more of a zine with handwritten lyrics and poems, like one called "If You're Anything Like Me." I'm obsessed with this stanza:
If you're anything like me,
There's a justice system in your head
For names you'll never speak again,
And you make your ruthless rulings.
Each new enemy turns to steel
They become the bars that confine you,
In your own little golden prison cell...
But Darling, there is where you meet yourself.
Crime and punishment run throughout reputation. It's a Trojan horse of an album that's more about falling in love with her milquetoast British boyfriend at the eye of the storm than it is about the storm itself, but some of its carceral language off the top of my head includes:
"he can be my jailor, Burton to this Taylor" (…Ready for It?)

"they're burning all the witches even if you aren't one" (I Did Something Bad)

"gold cage, hostage to my feelings" (So It Goes…)
Donnella's hip hop analysis and reputation's metallic, urban-industrial soundscape support a lineage from gangsta rap, and I'm tempted to draw a sloppy line further back to Waylon and Willie and outlaw country with "Getaway Car." Then again, Taylor is the daughter of a stockbroker from Pennsylvania who'd be out of place on both "Highwomen" and "Highwayman."
reputation's love-it-or-hate-it legacy ultimately rests on the album's distracting affectation. Try-hard aesthetic aside, Taylor's self-prescribed fixation on being a "good girl" is the underbelly that makes reputation ring false. And that's fine; pop culture lives on facade. But it's something more insidious than the people-pleasing, "mirrorball" truth of her.
Taylor Swift could never be an outlaw, a gangster, a member of any minority Viet Thanh Nguyen refers to. reputation's criminal, persecuted posturing could only ever be posturing because Taylor Swift loves the law, both personal comeuppance ("all I think about is karma") and the written law. Because the law protects her, and it protects her interests as one of the richest women in the world. That's why her recent political awakening is perhaps the zenith of liberalism's contradictions, and the class conflict that makes stan culture one of the worst things to happen to electoral politics. And that's how we ended up in this circle of hell:
---
part two coming soon
---
I didn't directly reference it, but this is in conversation with Vrinda Jagota's excellent reputation-era essay "On Loving Taylor Swift While Being Brown."
---
Don't know that I have many action items apart from watching these labor moves: